Coping strategies: As told by you!
We hand the mic over to you to share the coping strategies that made a real difference in your life.
Coping strategies are those little, everyday things that get you through the bad bits in life.
Coping is wellbeing, your way.
We're all different. We have different personalities (e.g. introvert or extrovert), different life experiences and different interests and hobbies. And how we cope is very personal. There's no 'one size fits all' to coping. It's important to find the best strategies for who you are as a person, and your life.
This page will cover: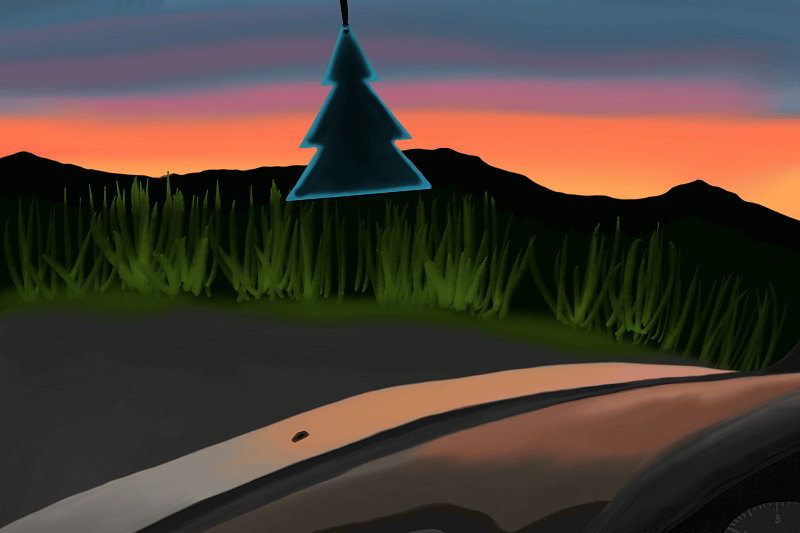 'Drive' by Jay
"I like going on long drives when I'm feeling stressed or worried. I like seeing the mountains or landscapes pass by in the open and quiet. It's like my own kind of meditation."
Wanting something fun or lighthearted to distract you? Check out our fun page for games, quizzes and more!
Exercise
Stress is your body's physical response to danger. It's designed to keep you safe through the fight/flight/freeze response - which helps you fight off danger, run away from it or even hide from it.
When you're feeling stressed, your body has extra energy. Exercising can mimic your fight or flight response, which can help your brain to start to calm down. And as an added bonus, your brain releases 'feel good chemicals', like dopamine and endorphins after you exercise.
Exercise isn't just good for anxiety - exercising can be used as a treatment for depression!
It doesn't matter what type of exercise you're into. Some people prefer team sports for the competition or social element (e.g. extroverts). Others prefer to go for a run solo. The best exercise is the one you are most likely to do and stick to. Check out Lela Ann's video on football and dance for exercise inspiration.
Mindfulness
Mindfulness is all about reconnecting with your body and the present moment.
Your mind can mentally travel to the past or the future, worrying about things that might happen or beating yourself up for something you said or did in the past. But your body is always here in the present moment.
Connecting with your body, through sensations like sight, taste, smell, touch and sound, or through your breath, can prevent anxiety from spiralling by breaking your worried thought patterns.
This bushwalking meditation by Zarine will have you feeling totally zen in 60 seconds!
Creative pursuits
In her video, 'Peace of Mind', Angela says, "Using my creative outlets, like listening to music and drawing, helps put me at ease," and we totally agree!
In fact, creative things like music, art, creative writing, and dancing can help you deal with stress and even mental health issues in three different ways:
Creative activites alter your brain waves and create different mental and emotional states, especially if you get 'absorbed' in the activity.
They act as distractions, which are sometimes a helpful way to break a worry cycle or help shift your mood.
They allow you time to process and gain insights into your thoughts, feelings or behaviours. Having insight can help you break patterns and form new habits. These insights play an important role in creating 'meaning'.
Escapism
Things like reading and game playing are a form of 'escapism', which is a type of mental distraction that normally involves some element of fantasy. Escapism can get a bad rap sometimes, but there are actually a lot of benefits to escaping reality for a while, including:
Taking a mental break and 'recharge your batteries' (especially for introverts)
DIstracting you from your problems (which can actually break a negative thinking loop and help you feel less 'stuck')
Engage your imagination and change your brainwaves
Build empathy and problem-solving skills
They say a picture is worth a thousand words, and Holly's artwork, 'Fiction' perfectly captures the positives of escaping into a good book.
Getting support
Sometimes, you need professional support. Getting help can feel really overwhelming at first, but it can make a big difference for your mental health and wellbeing.
Kiana says, "I'm an eating disorder and depression survivor... Recovery from any illness isn't linear and that's normal. By accepting help, therapy and medication was a big thing for me and helped me so much. There's not shame in admitting you need some support."
There are a lot of options for getting support. You can speak to an adult you trust like a family member, talk to someone face to face like your school counsellor or GP, or get in touch with a virtual service like Kids Helpline.
Finding purpose/meaning
Going through tough times, like experiencing mental illnesses or a trauma can be extremely difficult. People can find that making meaning or finding purpose in what they experienced can help them come out the otherside.
This can be very personal, but might include figuring out personal strengths, having a new appreciation for life, undergoing a spiritual change or finding ways to make a difference.
Joseph uses art, like 'Finding your silver linings' to create a connection between his culture, his experiences with mental health issues and to tell his story.
He says, "I began engaging with my art more when I was diagnosed with Bipolar Type 2 disorder in 2017, this became the way I was able to understand what was going on internally. I find art a great coping mechanism for my mental health journey as I combine my cultural foundations of the art itself with the storytelling and connection of my Bipolar condition."
Want more real life stories?
In these written stories, teens and young adults share what supports and coping strategies they used in their own words.
This content was last reviewed

07/10/2021
Talking helps! We're here for you.
No problem is too big or too small.
We're here 24 hours a day, 7 days a week