Supporting a child who is thinking of suicide
As a parent, it's frightening to hear your child talk about suicide and it can be difficult to know how to help.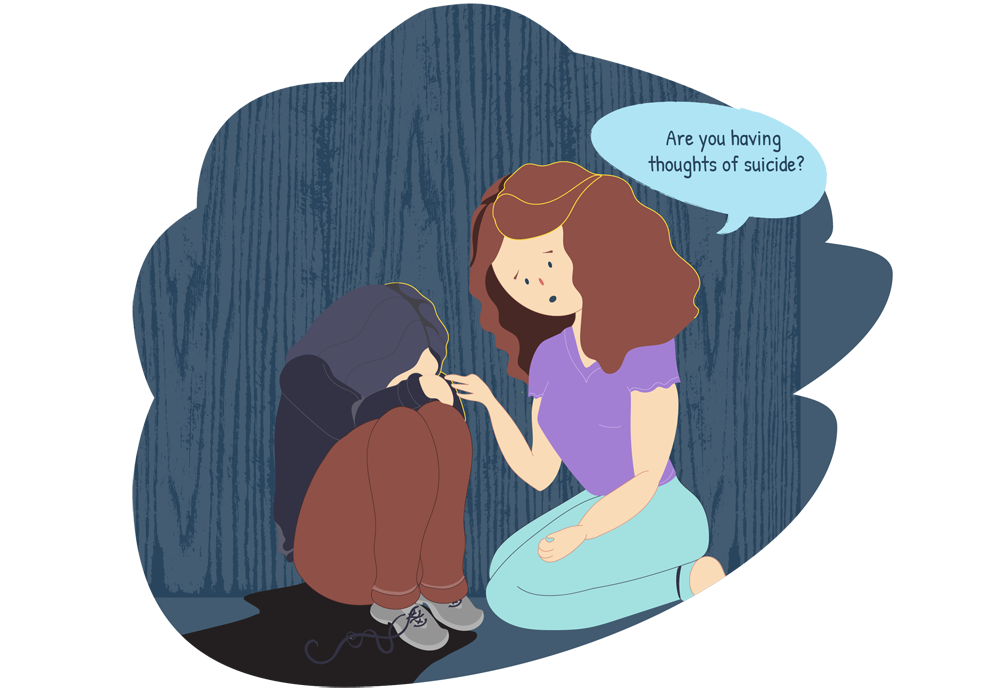 If your child is in immediate danger call 000 and stay with them until they are safe.
If they have a plan for hurting themselves call Kids Helpline on 1800 55 1800.
If your child is having thoughts of suicide, it may feel overwhelming but there are ways you can support them
Trust yourself and your instincts and let your child know that you're concerned.
Listen to your child without judgement

Show them that you care and they're not alone with this

Get professional support through a GP, psychologist or counsellor

Encourage them to talk to a Kids Helpline counsellor for additional support
As a parent, it might be difficult to tell the difference between warning signs and normal ups and downs for your child
Here are some common warning signs. But if you're unsure, reach out for support.
Hints they're thinking about suicide such as "I'd like to go to sleep and never wake up"
Talking about feeling worthless, hopeless, alone, being a burden to others or having no reason to live
Talking about death or suicide (even in a joking way)
Dramatic changes in mood including being suddenly happy
Not doing things they used to enjoy
Increased drug or alcohol use
Giving away possessions or saying goodbye
Having the means to end their life such as medication or weapons
As a parent, you can be your child's greatest source of support
How you can help your child with thoughts of suicide:
Take warning signs seriously
Listen and show them you care
Be direct when asking them about suicide
Be open to talking about their suicidal thoughts
Keep checking in on their wellbeing
Help your child get professional support
"Know that it's ok not to have all the answers: just listen, be patient, show them you care and help them get professional support." – Samuel, 22
Hearing that your child is having suicidal thoughts is distressing and it's likely to have a big impact on you.
You're not expected to be their counsellor or to know exactly what to do. Reaching out for professional support is important for your wellbeing and the wellbeing of your child.
Here are some more counselling and crisis support options:
Call Kids Helpline on 1800 55 1800 (for young people up to the age of 25)

Call the Suicide Call Back Service on 1300 659 467 (for people over the age of 15)

Make an appointment to see a GP, psychologist or counsellor

Give Parentline a call in your local State or Territory

Find more digital services and resources at Head to Health
This content was last reviewed

14/02/2018
Talking helps! We're here for your kids.
No problem is too big or too small.
We're here 24 hours a day, 7 days a week