My child struggles with mental health
It's hard to know how to help your child when they're having mental health challenges. We're here to help.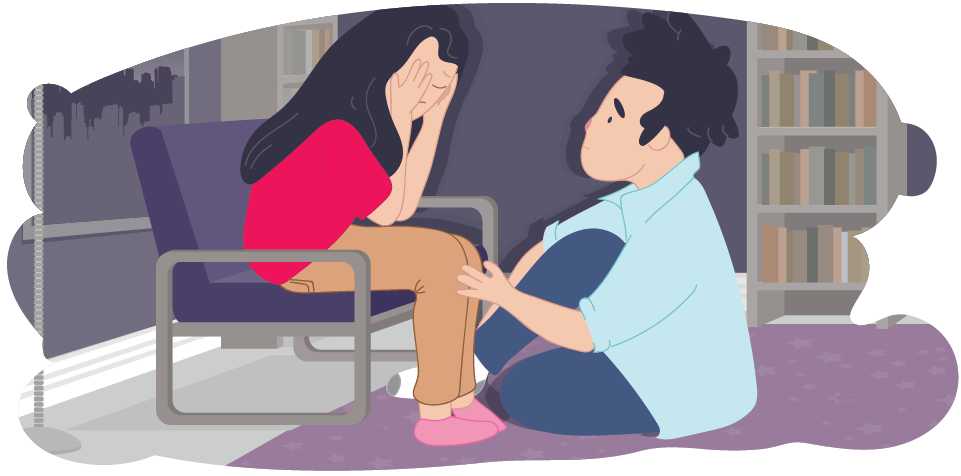 Mental illnesses in kids and teens
Many families have faced mental health challenges and found a way through.
Factors that can increase a child's vulnerability to developing a mental health condition include:
biological (genetics, family history)
psychological (stress, loss, neglect, abuse, bullying)
social (breakups, friend/family conflict, moving school/home)
physical factors (injuries, pain, sleep or medical issues)
A mental health condition:
involves significant changes in mood and behaviour
tends to last for long periods of time, and
negatively impacts day-to-day life for your child
Some of the most common mental illnesses kids and teens can encounter include depressive and anxiety disorders
Warning signs that your child needs extra support
Here are some factors that might indicate they need extra support right now:
Not acting like themselves
Changes in sleeping or eating
Avoiding people or social situations they used to enjoy
More emotional than usual - anger, worry, sadness and crying
They aren't performing as well at school as they used to
Lacking energy or motivation to do everyday tasks
Feeling hopeless about the future
Seek out professional support if you believe your child isn't coping
GPs can discuss referrals and treatment options
Psychologists can provide mental health support
School counsellors can support your child at school
Kids Helpline counsellors can talk to your child 24/7
What parents can do at home
It's ok to feel stuck or confused about how to help at times.
The good news is that there are a few small, yet powerful, things you can do to help:
Learn more – find out about mental health by researching online, books, and talking to experts.
Don't be afraid to have the conversation – choose a quiet place and a time where you're both relaxed. Try and ask, "Is there anything you wanted to talk about? You haven't really seemed yourself lately."
Keep in mind that fear of being judged or treated differently can stop kids opening up at first.
Kids may find it difficult to find the words to express how they feel. Be patient and encouraging.
If they aren't ready to talk things through it's ok. Try not to push.
Take their feelings seriously; if your child shares that things aren't ok, get professional support – especially if your child talks about feeling hopeless and/or thoughts of suicide.
Be sure to let your kids know that they're not alone, they are understood and help is available.
It's distressing to know your child struggles with mental health, and is likely to have an impact on you.
You're not expected to be their counsellor or to know exactly what to do. Reaching out for professional support is important for your wellbeing and the wellbeing of your child.
Here are some more counselling and crisis support options:
Call Kids Helpline on 1800 55 1800 (for young people up to the age of 25)

Call the Suicide Call Back Service on 1300 659 467 (for people over the age of 15)

Make an appointment to see a GP, psychologist or counsellor

Give Parentline a call in your local State or Territory

Find more digital services and resources at Head to Health
This content was last reviewed

28/02/2019
Talking helps! We're here for your kids.
No problem is too big or too small.
We're here 24 hours a day, 7 days a week