Let's get real about porn
It's normal to be curious and have questions about pornography (porn) whether you have seen any or not. Let's look at why people view porn, what porn can and can't teach us, and what can happen if you watch it a lot.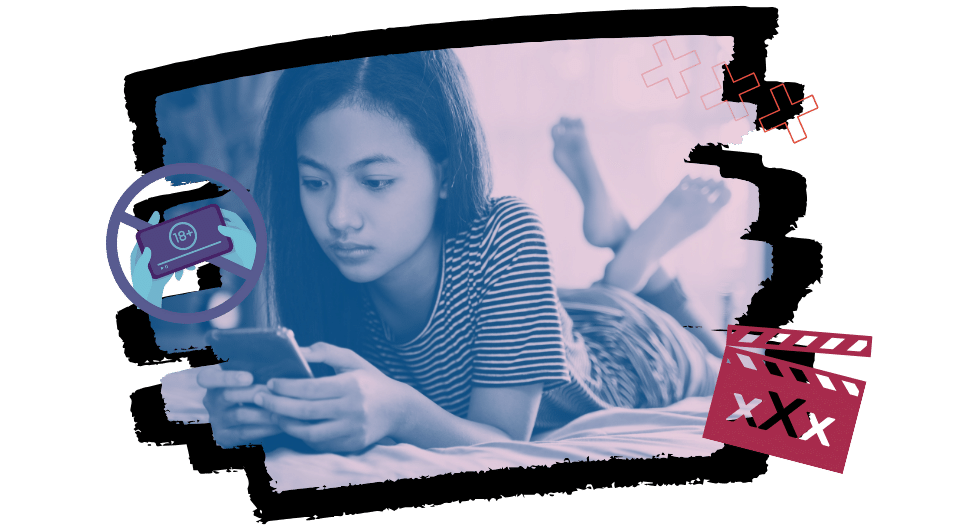 It seems everywhere you go there are sexy images of people trying to get your attention - on social media, TV, magazines or on billboards.
Pornography (also called 'porn') is different than sexy images in advertising because it usually shows people actually having sex. It is mostly created by professional performers who are paid to do it. Pornography is a multi-billion-dollar industry. The videos and photos are designed to catch the attention of as many people as possible, no matter what.
There are social rules about how porn is meant to be watched. The main ones are that it is meant to be watched in private and NOT in public places like school, work, the bus etc.
Another big one is that porn is not made for, or meant to be watched, by people under the age of 18. It is also not ok to show porn to somebody that isn't expecting you to show them. It is important to check with people first before you show them porn.
Why do people want to watch porn?
Porn is intended to sexually arouse and entertain you.
There are many reasons people check out porn. It can vary from one person to another, but here are some common reasons why:
Feeling sexual arousal or desire
It's usually free and easy to access
Curiosity about your own sexual identity or trying to figure out your sexual identity
Curiosity about other people's bodies
Pressure from a romantic or sexual partner
As a way to explore a kink or fetish (less common sexual practice or fantasy)
It can feel hard to stop watching it
Porn can shape how we think about sex and the expectations we form about it because it leaves out all the in-real-life (IRL) and boring bits – and this can cause problems in your relationships and sex life later on. Here's some important stuff to know:
Porn isn't designed to educate people about sex. It leaves out a lot of IRL stuff about sex, and doesn't give you info about contraception, sexually transmitted infections (STIs), and consent.
It also leaves out the boring bits, the messy bits and the awkward or embarrassing bits – and how to deal with them – which are a normal part of having sex.
People in porn are (mostly) getting paid to act. So, they might pretend they enjoy it even when it hurts or doesn't feel good.
Not all porn is created equally. Some porn can be harmful, especially those made illegally or by studios who care more about profit than people. So, if you do watch porn, it's important to think critically about what you're seeing.
It's important to get info about sex from reputable sources. We've provided some links below.
Why porn can have negative effects on your relationships and sex life
Porn isn't real and doesn't show you what sex in real life is like.
Porn can make you think that regular people have sex in the same way as performers, so you might be disappointed in real-life sex.
Porn can depict acts that can cause distress.
Porn normalises more extreme and violent forms of sex, so you might expect or do things that are disrespectful or unsafe, and cause harm.
The bodies you see in porn aren't what regular bodies look like.
In porn, they're always ready to have sex but in real life, many things affect if a person is ready for sex or not.
Porn often shows people having unsafe sex without talking about it and without the consequences that might happen in real life.
In real life when somebody says "no" to sex you need to respect that – it's not ok to pressure people into sex or try and convince them like they do in porn.
Porn can depict very complex sexual scenarios that require a thorough discussion beforehand – but porn never shows you how that discussion should go.
What is 'revenge porn'?
You might have heard this term. Revenge porn isn't actually porn – it's a type of abuse and it is against the law.
While there is porn showing people from every combination of gender identities and sexualities, most porn is targeted toward straight people, which means that it shows men and women having sex in "vanilla" (aka not kinky) sex acts.
Most porn is also created by straight men, for straight men, and doesn't take into account the sexual preferences and views of women and LGBTIQ+ peoples.
Women in porn are often mistreated, which is not ok in real life. Porn often treats women as sex objects whose pleasure doesn't matter. In porn, it can seem like the women are only there to please the men. Women's sexual needs and wants matter, but watching a lot of porn could make you forget this.
People from LGBTIQ+ communities or from diverse cultural backgrounds can also sometimes be shown in porn in similar disrespectful ways.
All sex should be consensual, respectful, and pleasurable to everyone involved.
Sometimes porn shows violence, unsafe activities, and degrading language.
This can include hitting, slapping and humiliating people.
You should never try dangerous stuff you see in porn. Dangerous sex acts in porn are filmed under very controlled conditions, to reduce the risk to the actors and prevent harm. Porn also doesn't show what can happen if these kinds of sex acts go wrong or other IRL consequences (e.g. legal issues).
Some types of 'kinky sex' also require a lot of preparation, risk planning, training, and checking on partners afterwards - which porn doesn't show.
IRL, dangerous sex acts can go badly wrong and cause injury and worse!
Is watching porn a problem for me?
Watching porn sometimes doesn't mean you have a problem.
We're all different and watching porn can affect us all differently. For some people, watching porn isn't a problem. For other people, watching porn can become harmful – to themselves, or to their sexual partners, and for others.
Here are some signs that watching porn might be a problem for you:
It interferes with your everyday life, e.g. you watch porn instead of sleeping, studying, etc.
You find it hard to get 'turned on' without porn.
You've tried to cut back or stop watching it, but can't resist the urge.
You want real life sex to match porn in ways that might be disrespectful, non-consensual or unsafe.
Porn puts pressure on you to 'perform' in a certain way – and if you can't, it affects your self-esteem/you feel not good enough.
You pressure partners to watch porn or go along with sexual fantasies when they don't want to.
Feeling guilty, ashamed or distressed about your porn habits.
It can be hard to know where to go to get good info about sex.
Talking openly and honestly about sex, sexting, pornography, etc., is still 'taboo' (something we avoid) in our society – and adults don't always agree on what info should and shouldn't be part of sex education for young people due to their own personal reasons (e.g., beliefs, concerns, etc.)
Having access to good sex education is important for safety, so here are some reputable site recommendations:
Scarleteen gives sex education 'for the real world'.
AMAZE provides open and honest communication about puberty, reproduction, relationships, sex and sexuality.
Sex Etc is sex education by teens, for teens.
Help is available if you need support or want to know more
Talking about porn can feel awkward but it's important to reach out for help if you're worried about anything you see or hear, or if you think watching porn is a problem for you.
This content was last reviewed

06/09/2023
Talking helps! We're here for you.
No problem is too big or too small.
We're here 24 hours a day, 7 days a week