Revenge porn and image-based abuse
'Revenge porn' is a type of image-based abuse that can happen online. If you experience image-based abuse, there are people who can support you, and things you can do.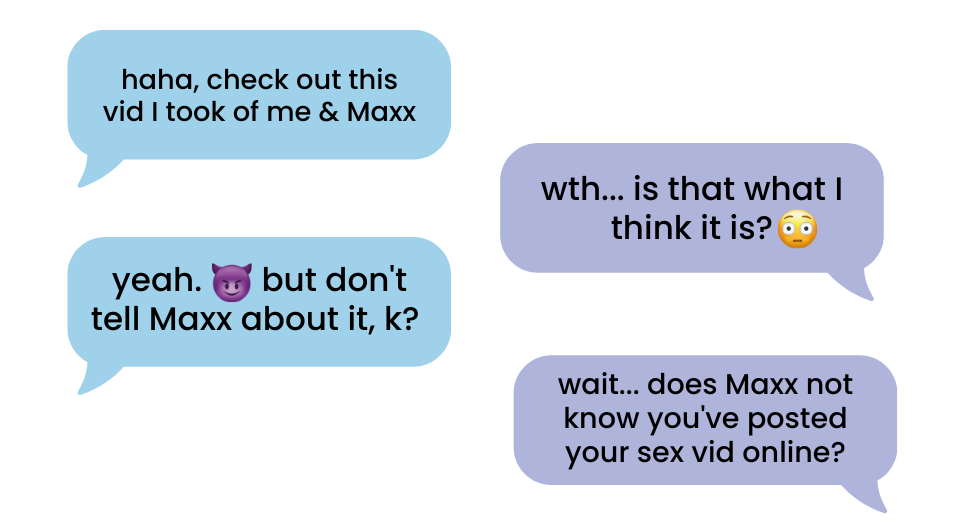 What is image-based abuse?
Image-based abuse is when someone shares or threatens to share or create intimate/sexual photos or videos of someone, without their consent.
The person/people doing this can be people you know – like a partner or ex-partner, family member or friend - or people you don't know in-person, like someone you met online.
Some examples of image-based abuse include:
Taking sexual pics or filming a video of someone without their permission (also known as "capping"), e.g. secretly filming sexual activity, or taking an image up a person's skirt ('upskirting') without her permission
Sharing sexual pics or videos of someone without their permission, e.g. texting a nude pic of your partner to your friend, or sharing sexual pics or videos of someone else that were sent to you
Posting sexual pics or videos online without the person's permission, e.g. uploading a video of consensual sexual activity to a porn website that you don't have permission to share
Photoshopping a person's image onto sexually explicit pics or videos
Creating intimate images/videos of a person using artifical intelligence (AI)
Using non sexual/non nude images or videos in an 'explicit' way e.g. making sexual comments about a picture of a child eating an ice cream cone
Creating or sharing nude or sexual images or videos of someone under 18 years of age
Stealing intimate pics or videos from someone's device or computer
Image-based abuse can happen to anyone – it's not your fault if it happens to you. You're not alone and there's help and support available.
'Revenge porn' is a type of image-based abuse. People usually think of 'revenge porn' as someone sharing intimate images or videos after a breakup to 'get revenge' on their ex.
Calling it 'revenge porn' can be problematic because it's not pornography or revenge - it's a type of abuse and is against the law. Acting like it's about revenge is also a type of 'victim blaming' - which is very harmful.
It's never the fault of the person experiencing image-based abuse and no-one deserves to be abused.
There is no excuse for image-based abuse. Regardless of the motivation, sharing images or videos without consent is against the law and causes harm.
Signs it might be online abuse
If any sexual interaction online makes you:
Feel emotionally distressed, such as worry, guilt, anger, depression or paranoia
Keep secrets, withdraw from family/friends and isolate yourself
Worry about how people will see you/your reputation
Feel bad about yourself as a person, e.g. feeling worthless
Lose sleep, lose your appetite or feel physically sick
Feel blame or shame
Feel suicidal or the urge to self-harm
It's a sign that you need some support. It's important to reach out to a trustworthy adult, and/or Kids Helpline.
If you, or someone you know is in immediate danger, please call 000.
Help! Someone is threatening me!
If someone is threatening to make sexually explicit images/videos of you public, or send them to your family and friends, there are things you can do. (If they are blackmailing you, by demanding money, or more explicit images/videos, please see our 'sextortion' page.) Here's how to respond to threats that don't involve blackmail:
If you're under 18 in the images/videos, report it to ACCCE (Australian Centre to Counter Child Exploitation)
Keep a record of social media details – account profile, profile usernames, or URLs
Cut off all contact and block them (after you've taken screenshots)
Keep a record of website addresses (URLs), dates and time
Tell a trustworthy adult and/or contact Kids Helpline
My nudes have been leaked... what should I do?
If your videos/images have been shared or made public without your permission, these things can help:
if you're under 18 in the images/videos, report it to ACCCE (Australian Centre to Counter Child Exploitation)
if you're over 18 report it to CyberReport
don't blame yourself - image-based abuse is not your fault
contact Youth Law Australia for free legal advice
if they've been sent to family or friends, ask them to delete them and not to share/send them to anyone else
if they're in a public online space, report it to the social media service, website or app they're on to get them taken down
get free, confidential and safe help to prevent more images/videos being uploaded by creating a hash (digital fingerprint):
if you're having a hard time getting images/videos removed on sites, websites or apps, report it to eSafety (they have 'take down powers' in Australia)
if you're experiencing image-based abuse as part of an abusive relationship, contact 1800 RESPECT on 1800 737 732
If you witness image-based abuse happening to someone else, grooming, sextortion, or any child sexual abuse material, you can report it here, or report it anonymously to crime stoppers.
REMEMBER: Image-based abuse is not your fault - even if you shared the intimate images or videos voluntarily with them in the first place. Image-based abuse can happen to anyone. If you know someone who is experiencing image-based abuse, don't judge, blame or shame them, even if they made or shared the pictures/videos willingly. No one deserves to be abused. Like with any other crime, those experiencing image-based abuse deserve respect, compassion and support
If you think you might be experiencing image-based abuse, we're here to help
Whether you sent a sext you regret, you're being threatened online, or someone has shared explicit images or videos of you without your permission, we're here to support you.
You can talk to us anonymously and confidentially, anytime and we can help you work through what you should do, and answer any questions you might have.
Your safety and wellbeing is our top concern - we'll support you no matter what. Give us a call or start a WebChat anytime.
This content was last reviewed

18/07/2023
Talking helps! We're here for you.
No problem is too big or too small.
We're here 24 hours a day, 7 days a week