Your rights
Your rights apply across all aspects of your life – you have social, cultural, political and economic rights. Let's look at what those rights are, how they are protected and how to learn more.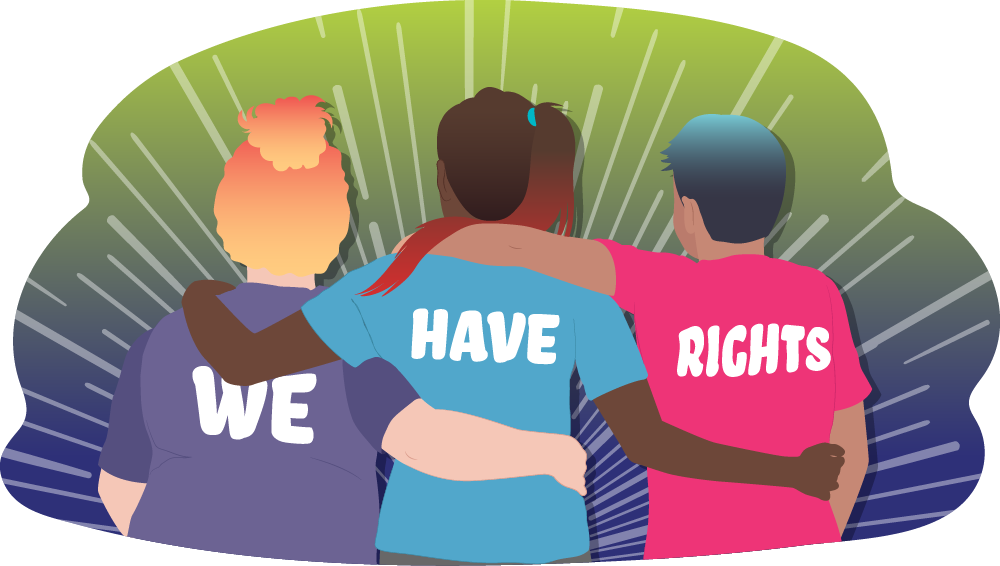 What are rights and why do I need them?
People need rights to be able to live a full life. Rights are universal, which means they belong to everyone, regardless of who you are, where you live, or how much money you have.
You have a right to be safe, healthy and happy.
Your specific rights include:
Safety and protection. This means having a safe place to live, and protection from being harmed by others.
Health. This includes safe drinking water, having enough to eat, having access to healthy and nutritious food and medical care.
Education. You have a right to go to school, access media like the news, and to be able to access and share information.
Privacy. The law protects your privacy so your information is safe.
Participation. You have a right to meet with other young people, or join groups and organisations. You also have a right to have a say and be heard.
Legal rights. You have a right to be treated fairly and access legal help if you break the law. You also have rights to be treated with respect and not experience discrimination.
To be who you are. Cultural and religious freedoms are protected by law.
Nobody has a right to take your rights away from you, or try to deny you of them.
How are my rights protected?
In 1989, the 'Convention on the Rights of a Child' was ratified by many governments around the world, including Australia. This is a legally binding international text that protects the rights of children (defined as anyone under the age of 18). The main guiding principles are:
Focusing on the best interests of young people
Protecting young people from discrimination
Giving young people a say on issues that affect them
Allowing young people to survive and develop healthily
What can I do if I think my rights are being violated?
In Australia, people still experience rights violations. Some examples of this include experiencing poverty, being unsafe at home due to family violence, or being discriminated against for who you are.
If you think your rights are being violated, it's important to speak to a trusted adult, like a parent, teacher or Kids Helpline Counsellor for support. You can also seek free, confidential legal information from Youth Law Australia or contact the Australian Human Rights Commission for information or support.
There are also many groups and organisations that provide specialist support and advocacy for different rights, e.g. protecting the cultural rights of First Australians, advocating to end discrimination against LGBTIQ+ people or taking climate action to protect the health and safety of people in the future. Joining or supporting these groups can be a great way to campaign for greater change.
Kids Helpline is committed to protecting the human rights of young people living in Australia.
This content was last reviewed

17/07/2020
Talking helps! We're here for you.
No problem is too big or too small.
We're here 24 hours a day, 7 days a week