Believe it or not, worry actually serves a purpose!
Anxiety is a normal, natural emotion everyone experiences from time to time. It was designed to help keep us safe from danger. This is known as our 'stress response'. For some people, anxiety is a sign they don't feel they have the 'tools' they need to cope with a certain stressful situation or experience. Fortunately, there are things you can do to get on top of your anxiety! Here are some ideas:
Covid got you stressed out and anxious?
You're not alone and we totally get it!
This handy guide can help you understand how and why people feel stress and anxiety and what you can do about it.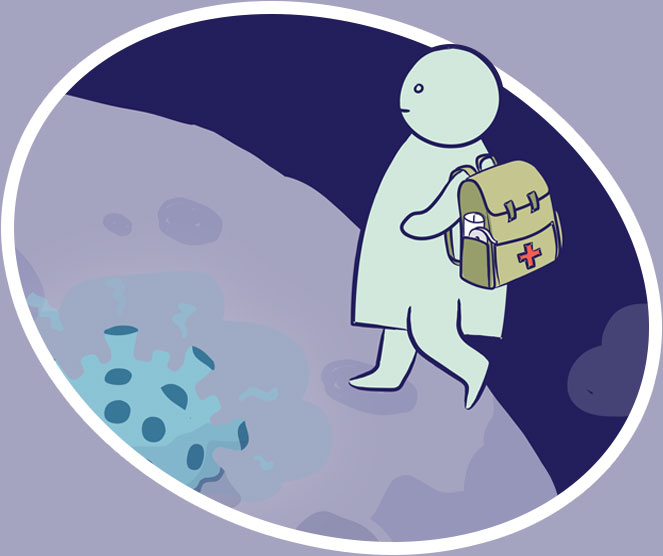 Anxiety disorders
You might be experiencing an anxiety disorder if your anxiety:
Seems to last a long time/longer than usual
Feels very intense or overwhelming
Causes you distress
Interferes with your everyday life
Is hard to cope with
Anxiety disorders can include Panic Disorders, Social Anxiety, Phobias and Obsessive Compulsive Disorders.
Your nutrition, movement and sleep habits all impact on both your brain and your mental health. Self-care is about meeting your basic needs so you can be physically and mentally healthy.
Click each image to expand it.
People often think 'coping' is about doing well or even thriving. In reality, most of the time, coping is about just getting by in hard circumstances.
It's about taking each day at a time and doing your best.
Coping is actually really personal. Different things work differently for different people, which can make finding what works best for you a little bit complicated. Fortunately, there are lots of different types of coping strategies and they can make a big difference to your stress and anxiety levels.
Once you find strategies that work, make sure you practice them regularly! When you practice coping strategies, you are forming new neural pathways in your brain. The more you rehearse these, the stronger these pathways become. With enough time and practice, some pathways even become automatic! This is called 'neuroplasticity'.
Check out these tried and tested coping strategies to find how they are beneficial for your brain and stress levels
Need some help getting started?
Kids Helpline has teamed up with Toasted TV and some teens to talk through their experiences with anxiety and learn some calming strategies.
Talking helps! We're here for you.
No problem is too big or too small.
We're here 24 hours a day, 7 days a week