Your rights
People need rights to be able to live a full life. Rights are universal, which means they belong to everyone, regardless of who you are, where you live, or how much money you have.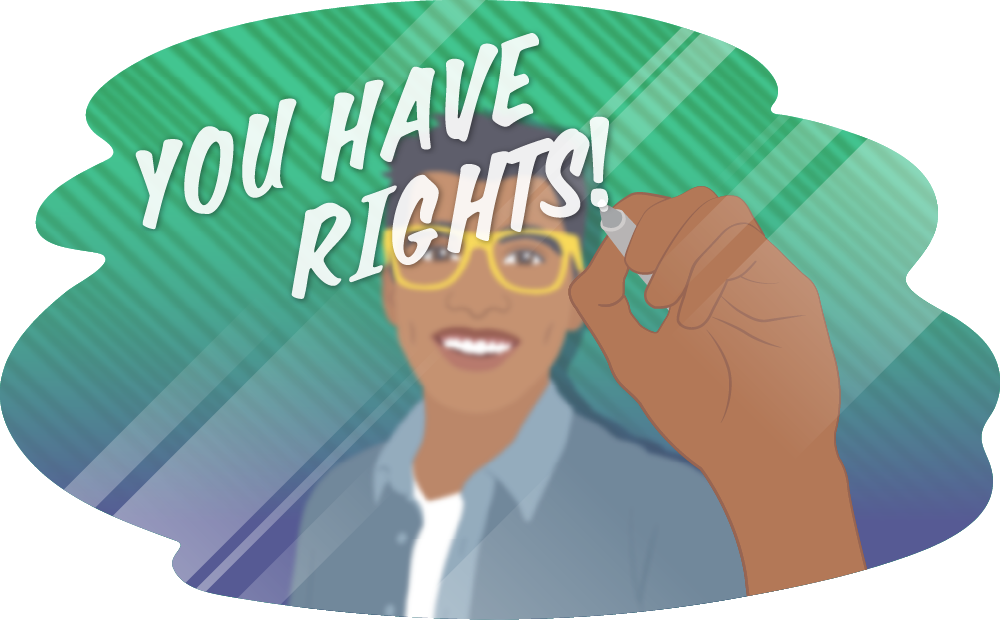 Human rights are ethical principles of freedom and entitlement. They define the things people need to live a full life.
They are based on principles of dignity, equality and respect, and are moral and legal guidelines for our standard of living.
Rights recognise the value of each person, regardless of who they are, where they live or what they think. Rights are universal and inalienable, which means they apply to everyone, and no one has the right to take your rights away.
Your specific rights include:
Safety and protection, e.g. protection from being harmed or exploited by others.
Health, e.g. a right to access medical care, access to safe and nutritious sources of food and water.
Education, e.g. access to mass media, freedom from censorship.
Legal rights, e.g. protection from discrimination and a right to access legal help.
Political, e.g. the right to vote.
To be who you are, e.g. freedom of religion and cultural expression.
How are my rights protected?
The 'Universal Declaration of Human Rights' sets out the basic rights and freedoms that apply to all people. It was created in the aftermath of World War II.
Since then, there have been many other treaties on human rights, including conventions to protect the rights of children, people with disabilities and eliminate discrimination against women and racism.
The Australia Government have agreed to respect and uphold many of these treaties, many of which are internationally legally binding texts. Many of our laws are designed to protect our human rights.
What can I do if I think my rights are being violated?
If you think your rights are being violated, it's important to seek support. The type of support might depend on how your rights were violated. Here are some places that can help:
If you are experiencing an immediate, significant threat to your safety or life, such as the threat of violence, it's very important you contact emergency services on 000.
If your rights are being violated by a business or organisation, or someone representing them, you have a right to submit a formal complaint with that organisation, e.g. a shop refusing service to minority groups.
Specialist groups and organisations provide support and advocacy for different rights, e.g. Fair Work Australia for workplace rights and entitlements.
Legal services, such as Legal Aid.
The Australian Commission of Human Rights protects and promotes human rights and can provide information and support.
Kids Helpline is committed to protecting the human rights of young people living in Australia.
This content was last reviewed

16/07/2020
Talking helps! We're here for you.
No problem is too big or too small.
We're here 24 hours a day, 7 days a week