Looking after yourself
If you're juggling lots of things like school, chores, sports and friends - it's easy to forget to look after yourself.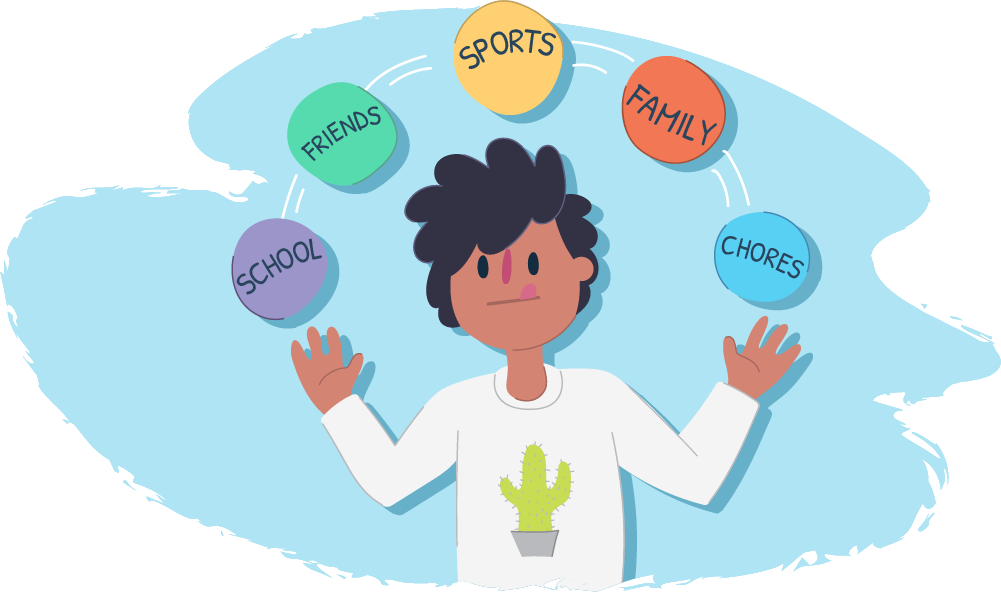 Keeping things in balance and learning to manage stress
You've probably heard people talk about having a 'healthy lifestyle'. It involves more than just eating healthy and exercising.
It also means:
Looking after your physical, mental and emotional wellbeing

Knowing when things are getting out of balance and what to do about it

Being able to keep up with responsibilities while also looking after yourself
When things get out of balance and you feel stressed out, it can start to affect your health in negative ways.
It's easy to give up sleep when you need to study, but sleep is really important for staying healthy!
It's the only part of the day where your body and mind get a chance to rest and recharge. Sleep actually helps with learning and memory which makes it really important for school and study.
Some tips for getting a good night's sleep:
Get at least 8 hours of sleep each night
Turn off devices before bed - TV, mobile phone, laptop, tablet
Close the blinds or curtains and keep your room dark
Limit sugar before bed (soft drinks, chocolates)
Try not to nap during the day
What you eat can help you feel healthier, stronger and ready to take on any stress that comes your way.
Eating a balanced diet provides you with the right type of fuel for your body.
It's important to develop healthy eating habits as not eating well can put yourself at risk of:
Unhealthy changes in your weight
Reduced mental health
Physical illness
If you're trying to eat healthily, a few simple tips are:
Drink plenty of water
Limit junk food
Eat more vegetables, fruit and protein
Eat regular meals
Don't skip meals
Avoid eating when bored
Pay attention to how much you eat
Exercising regularly is part of having a healthy lifestyle.
Physical activity can help you to:
Build a strong body and mind
Having an outlet to express your thoughts and feelings without worrying about being judged is really important.
Being a healthy person means expressing your feelings and thoughts about what's happening for you instead of bottling it up

Talking to people you trust can help you to feel more balanced and able to cope with problems

Create your own support team who you can rely on and talk to when you feel stressed out

You might also find an outlet through drawing, writing, dancing or sports - something that lets you get your fears, worries and frustrations out
Take a break when you feel yourself getting stressed
Having balance in your life means taking time out to have fun, do things you enjoy and do what makes you feel good!
It may not seem as important as the other tasks, but it's a must for your mental and emotional wellbeing.
Give yourself permission each day to:
Do something fun that makes you smile
Do stuff that you enjoy and takes your mind off things
Spend time with supportive friends and family
It's really important to take care of yourself – there's only one of you!
It's easy to get caught up in all your responsibilities, but there's lots of reasons to take the time to look after yourself.
Taking care of your physical, emotional and mental wellbeing will mean you're well on your way to having a healthier and more balanced life.
If you need help to create balance in your life, give us a call, start a WebChat or send us an email today.
If you are looking for more digital services and resources, check out Head to Health.
This content was last reviewed

14/02/2018
Talking helps! We're here for you.
No problem is too big or too small.
We're here 24 hours a day, 7 days a week