Eating disorders
Eating​ ​disorders​ ​are​ ​serious​ ​and​ ​have​ ​a​ ​big​ ​impact​ ​on​ ​someone's health.​ ​We're​ ​here​ ​to​ ​help.​ ​Learn​ ​more​ ​about​ ​eating​ ​disorders, what​ ​the​ ​warning​ ​signs​ ​are,​ ​and​ ​who​ ​can​ ​help​ you ​change​ ​your relationship​ ​with​ ​food.
Content Warning: this article contains information about mental health which may be distressing or triggering.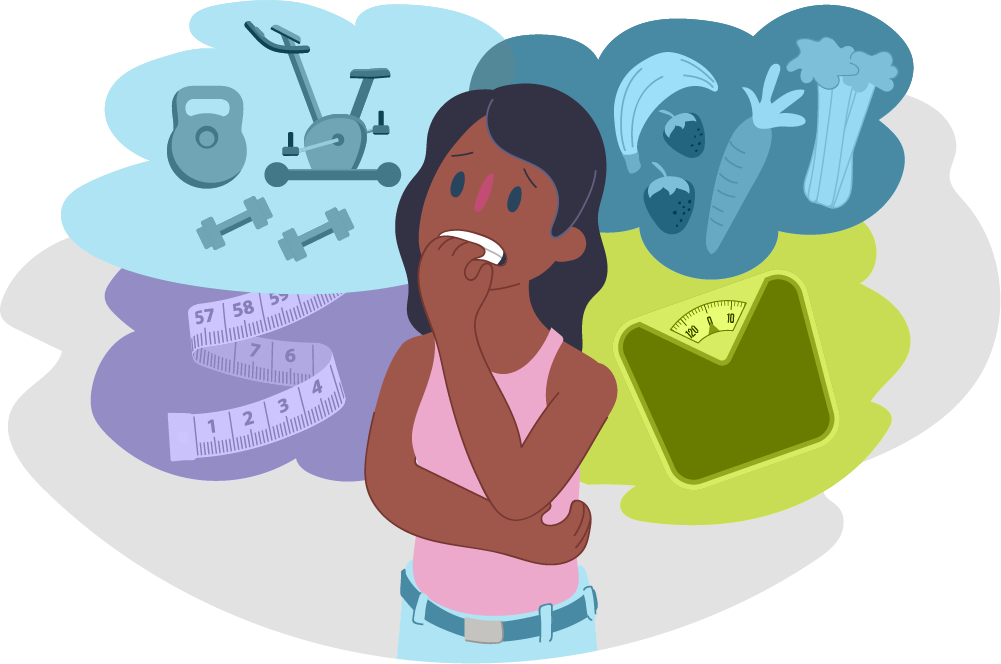 What​ ​is​ ​an​ ​eating​ ​disorder?
It's​ ​more​ ​than​ ​just​ ​eating​ ​too​ ​little​ ​or​ ​too​ ​much.​ ​It's​ ​when​ ​someone​ ​has​ ​an unhealthy​ ​focus​ ​on​ ​eating,​ ​exercising,​ ​or​ ​their​ ​body​ ​size​ ​or​ ​shape.
Here's​ ​what​ ​you​ ​need​ ​to​ ​know​ ​about​ ​eating​ ​disorders:
You​ ​can't​ ​always​ ​tell​ ​if​ ​someone​ ​has​ ​an​ ​eating​ ​disorder​ ​just​ ​by​ ​looking at​ ​them
Both​ ​girls​ ​and​ ​guys​ ​of​ ​any​ ​age​ ​can​ ​develop​ ​an​ ​eating​ ​disorder
Eating​ ​disorders​ ​are​ ​not​ ​a​ ​diet​ ​gone​ ​wrong​ ​or​ ​a​ ​cry​ ​for​ ​attention
Sometimes​ ​eating​ ​disorders​ ​develop​ ​as​ ​a​ ​way​ ​for​ ​someone​ ​to​ ​feel​ ​in control​ ​of​ ​emotions​ ​or​ ​something​ ​that​ ​is​ ​happening​ ​in​ ​their​ ​life
Eating​ ​disorders​ ​can​ ​have​ ​a​ ​lifelong​ ​impact​ ​on​ ​someone's​ ​health
Eating​ ​disorders​ ​are​ ​very​ ​serious​ ​and​ ​it's​ ​important​ ​to​ ​get​ ​support
Help​ ​is​ ​available​ ​and​ ​recovery​ ​is​ ​possible
Types of eating disorders
Eating disorders can come in many forms. Here are the most common:
Other Specified Feeding or Eating Disorders (OSFED)
How to tell if your relationship with food is becoming unhealthy?
You may notice changes in the way you:
Recognising the signs and symptoms
Here are some of the most common warning signs and symptoms
How you look:
Sudden​ ​weight​ ​loss​ ​or​ ​gain
Your look​ ​tired​ ​and​ ​worn-out
Your​ ​clothing​ ​style​ ​has​ ​changed
Changes​ ​in​ ​the​ ​way​ ​your​ ​hair,​ ​skin​ ​and​ ​nails​ ​look
You may feel:
Unhappy​ ​with​ ​your​ ​body​ ​shape​ ​or​ ​size
Worried,​ ​upset​ ​or​ ​guilty​ ​after​ ​eating
Moody,​ ​irritable​ ​or​ ​have​ ​low​ ​energy
Faint,​ ​dizzy​ ​or​ ​weak
Nervous​ ​or​ ​out​ ​of​ ​control​ ​around​ ​food
Cold​ ​all​ ​the​ ​time​ ​–​ ​even​ ​in​ ​warm​ ​weather
How you act:
Steal​ ​or​ ​hide​ ​food
Withdraw​ ​from​ ​your​ ​friends
Exercise​ ​often​ ​or​ ​excessively
Vomit​ ​after​ ​meals​ ​or​ ​use​ ​laxatives
Eat​ ​in​ ​secret​ ​or​ ​avoid​ ​eating​ ​with​ ​others
Diet,​ ​overeat,​ ​fast​ ​or​ ​change​ ​the​ ​way​ ​you​ ​eat
How you think:
Difficulty​ ​concentrating
Have​ ​a​ ​strong​ ​fear​ ​of​ ​gaining​ ​weight
View​ ​your​ ​body​ ​differently​ ​than​ ​others​ ​do
Worried​ ​about​ ​what​ ​you​ ​eat​ ​or​ ​the​ ​way​ ​you​ ​eat
Constantly​ ​think​ ​about​ ​food,​ ​eating​ ​or​ ​body​ ​weight
"I'm an anorexia and depression survivor."
If you're worried about your eating habits, it's important to seek help as soon as possible.
Here's who can help:
Service that specialises in eating disorders like the Butterfly Foundation
With help you can start to change your relationship with food
If​ ​you​ ​notice​ ​any​ ​of​ ​these​ ​signs​ ​or​ ​you're​ ​worried​ ​about​ ​your​ ​eating​ ​and exercise​ ​habits​ ​–​ ​we're​ ​here​ ​to​ ​help.
Give​ ​us​ ​a​ ​call,​ ​start​ ​a​ ​WebChat​ ​or​ ​email​ ​us​ ​today.
If you are looking for more digital services and resources, check out Head to Health.
This content was last reviewed

14/02/2018
Talking helps! We're here for you.
No problem is too big or too small.
We're here 24 hours a day, 7 days a week