Recommended for Grades 2 - 6
Positive Use of Technology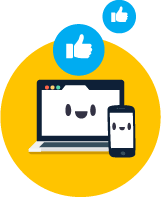 Appropriate internet use: online respect, responsibility and reputation
Learning intentions for students:
Understand appropriate/sensible internet usage
Learn the importance of making good choices online
Strategies to be respectful and responsible online
Understand your online reputation/digital footprint
Sessions can be tailored to suit each class!
This session is ideal for classes who are being given laptops/ipads or are new to using technology at school.

Book a free session at your school!