Recommended for all primary year levels
Positive Use of Screens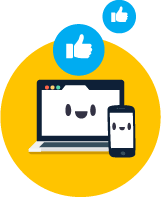 Appropriate internet use: online respect, responsibility and reputation
Learning intentions for students:
Learn the difference between appropriate and inappropriate choices on screens

Learn the importance and benefits of making good choices online

Practice strategies for making good choices: being wise, respectful, responsible and thinking about your reputation

Practice strategies for contributing positively to your online world
Sessions can be tailored to suit each class!
This session is ideal for classes who are being given laptops/ipads or are new to using technology at school.
Book a free session at your school!