Recommended for all high school year levels
Coping during COVID-19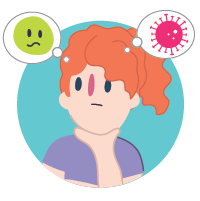 In light of the current stressors for young people world-wide, Kids Helpline have developed a specialised topic to equip students with coping strategies and wellbeing supports to ensure they are looking after their mental health during the challenges of isolation and learning remotely.
How is it run?
The session can be run via the learning platform your school is using to connect with students, or live over video link if students are attending school. There is also an accompanying student workbook for any students who cannot access video technology (see Classroom Resources below).

Learning Intentions:
- Normalise the array of experiences and feelings young people may be having
- Teach coping skills through the use of the 4 C's: Coping, Creating, Connecting, and Compassion
- Identify the differences between helpful/ sustainable coping strategies and unhelpful choices during isolation
- Plan for kindness and gratitude by creating a Coping & Compassion Calendar
- Complete a COVID-19 Time Capsule Workbook that can be locked away and re opened as a school later in the year
You can book as many sessions as you like, and for any Year 7-12 group of students.
Session start time & duration will be collaborated with the booking staff member and personalised for your school timetable. We recommend starting sessions 5 minutes into the lesson to allow you time to explain to the class the behavioural expectations on the video call and what they can do if needing support during the session.
Recommended session size is 5 - 50 students.
Book a free session at your school!